No, not that  NSA.
I joined the National Stuttering Association back in March. The NSA is a national non-profit group "dedicated to bringing hope and empowerment to children and adults who stutter, their families, and professionals through support, education, advocacy, and research."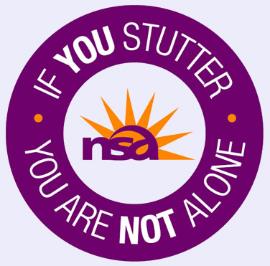 The word empowerment  resonates very strongly with me and is what drew me to the NSA. The goal of the NSA is not to help people who stutter become more fluent, but rather to provide individuals with the confidence and self-belief to achieve their full potential. The mission goes far beyond speech!
Communication involves a lot more than just physical speech mechanics. The stuttering iceberg is often used as an analogy to illustrate how stuttering impacts a person. Speech therapy can smooth out some of the physical patterns, but what lies beneath the surface is what causes the real life impact. This "bottom 90%" is why the NSA has such a tremendous impact on people's lives.
The NSA hosts local chapters across the United States. Meetings are open to people who stutter, family, friends, speech pathologists, students, and anyone who is interested in learning more about stuttering. Our City of Chicago chapter had our first meeting in May, and we've been growing steadily over the summer. Our meetings are a time to share about recent experiences, discuss issues related to stuttering and communication, and also just enjoy the freedom to stutter openly while hanging out!
Our Welcoming Words, read every meeting, say "Together, we will help each other and we will help ourselves
to accept and cope with our stuttering, to build our self-confidence, and to
improve our verbal communication skills to the best of our abilities." Our meetings are a time of honesty, self-discovery, and celebration. All are welcome.
Stutter on and stutter strong!
Join us on October 22nd for International Stuttering Awareness Day. Visit our Facebook page or e-mail me for more information!