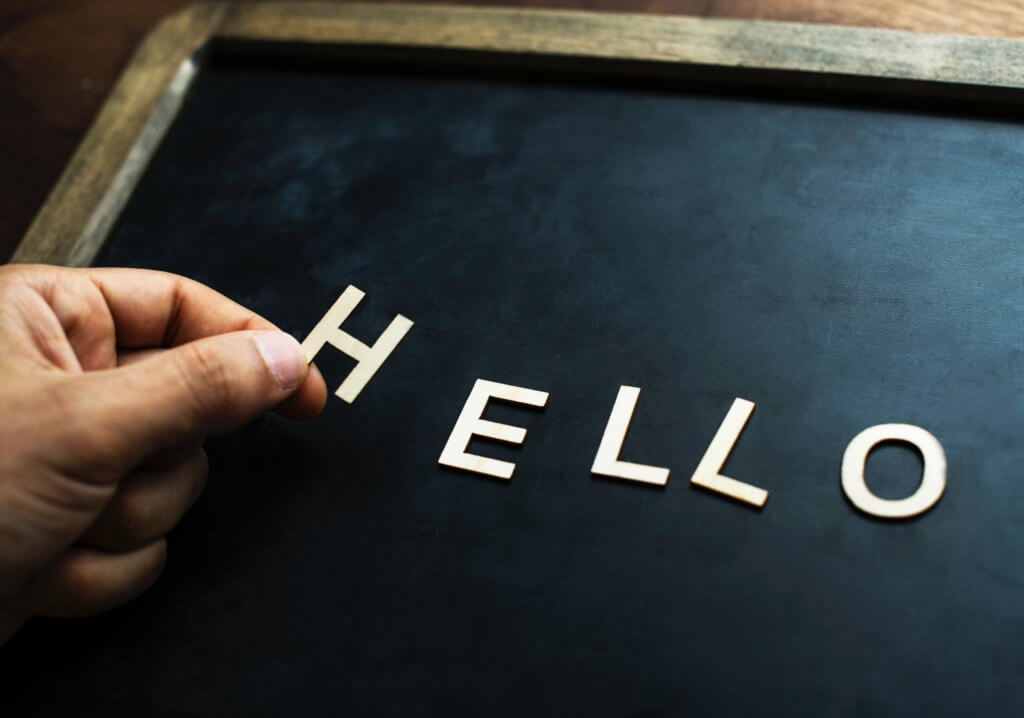 What better way to welcome the New Year than with new additions to the team! One of our 2019 goals (you could even call it a resolution) is to expand our clinician training and mentoring opportunities, not only within our practice, but in our larger professional community. We are excited to welcome a number of graduate student interns this calendar year. Each of them will be with us for several months, working directly with clients and supporting practice activities.
This term, we welcome Sarah Klusak of New York University (NYU) and Erin Brophy of Northwestern University (NU). We asked them to share a little bit about themselves as they begin their first week.
Both of you are career-changers with prior experience in other industries. Please tell us a bit about 1) what you did before you made the switch to SLP and 2) why you made the switch to SLP.
Sarah: Some of the best journeys are those that bend in many directions, leading us to unexpected places and unforgettable experiences.  As a child, singing was my passion, and I couldn't imagine myself doing anything else.  I performed with several opera companies in my youth, including Lyric Opera and Chicago Opera Theater, and I ultimately earned my undergraduate degree in vocal performance from Illinois Wesleyan University. I loved performing (still do!), but I realized early on that the life of a full-time professional musician was not for me.  It's tough out there, and the thought of endless auditions and uncertain financial stability made me uncomfortable.  But I couldn't give up on music entirely! So I explored my options, looking for a part-time singing gig that could accommodate a stable full-time day job. After short engagements at Grant Park Chorus and Holy Name Cathedral, I eventually found a home at St. Clement Church, where I have been performing solo and choral work in weddings and Masses for the last 18 years. Having fulfilled my creative outlet, I now needed the day job.
When I started there, Aquarium Professionals Group was a fledgling company specializing in the installation and maintenance of large-scale, high-end aquariums.  Even though I didn't know anything about business or fish tanks, I quickly learned the ropes, brought the company into the black, and became co-owner within 3 years.  I spent 11 years at APG, handling all of the sales, customer service, HR, and financial duties.  After gaining a wealth of knowledge and experience in the business world, I eventually realized that something was missing.  I craved a career where I could help people, directly and profoundly.  But where to start?
As luck would have it, an office manager job opened up at Northwestern University, and I recognized that I could take advantage of the employee tuition benefit to academically explore different career options to find my perfect fit.  With that in mind, I completed the pre-speech pathology program at NU, excited that I had finally found a career path that caters to my background and incorporates compassion.  I'm currently earning my graduate degree from New York University, and my passion for this field has increased tremendously over the last few years.  I'm truly excited to see where this journey ultimately takes me.
Erin: Prior to pursuing a career in Speech-Language Pathology, I worked as an account manager in digital advertising for eight years. I earned my Bachelor's degree in Advertising from Michigan State University in 2007. My career began in Detroit working in internet advertising for the automotive industry. I continued my career in Chicago working for an advertising technology firm on Michigan Avenue. I worked there for five years before deciding to change directions and study Speech Pathology at Northwestern University!
While I had many great experiences and opportunities working in advertising, I envisioned a career for myself doing something more personal. I wanted to help people and connect with them on an individual level. There's nothing more rewarding than making a difference in someone's life. And what better way than by improving a person's ability to communicate with others!? There are many reasons why Speech-Language Pathology is a great fit for me, including my background in communications, a strong interest in language and linguistics, as well as a passion for counseling. Not to mention an ever-increasing need for SLP professionals across a range of ages and settings. I am so excited to be on this new path! It is wonderful to talk to other SLPs who love what they do and are making a difference.
What type of clinical work have you found most enjoyable and/or interesting thus far? Why?
Sarah: So far, I've only had the opportunity to work at a school for Autistic children, which was an amazing and rewarding educational experience.  As I happened to be there during the season of IEP renewals, a lot of my students needed formal assessments, and these were always my favorite projects.  As my students had severe behavioral issues, I usually couldn't administer the standardized tests by the book, but I still needed the data!  So each test had to be modified to fit the student's needs, usually on the fly and with constant tweaking (thankfully, the business side of me still loves these kinds of in-the-moment challenges).  The process of analyzing and interpreting the data catered to my love of math and science, and the discussions this data inspired with my supervisor provided invaluable learning opportunities.  
Erin:  I really enjoy clinical work that includes an element of counseling. This can apply to many different scenarios, often when you least expect it!  So far, I have made some wonderful connections with pediatric clients with ASD, fluency disorders, and articulation disorders. I have also very much enjoyed working with adults who have aphasia and apraxia.
What type of clinical work are you most looking forward to experiencing during your speech IRL internship? 
Sarah: I'm most excited about experiencing all aspects of articulation (difficulties with sounds, accent modification, etc.).  The singer in me is obsessed with diction, phonetics, dialects, and languages.  I also worked closely with the Linguistics department at Northwestern to provide classroom technology for their ESL classes, and I probably drove all of the professors crazy with my incessant questions about their work.  I find speech fascinating, but I have little hands-on clinical experience in this area.  I'm extremely excited to learn more about these therapeutic techniques and put them to use!
That said, I can't help but mention the other aspects I'm looking forward to.  The team at speech IRL are experts in the field of stuttering, and this will be an amazing opportunity to learn from the best about this fascinating and unique aspect of speech therapy.  My work as the neurology TA at NYU has developed a fascination with all things brain-related, and I am passionately interested in working with clients who have neurogenic speech and language impairments.  The singer in me is very excited to explore voice therapy, especially for transgender clients.  I also can't wait to learn more about the business services that speech IRL provides.
Erin: I have a wide range of interests, but at this point I am particularly interested in working in the realm of social communication. I look forward to working with adults who want to improve their pragmatic skills. I am also very excited to learn more about stuttering, accent modification, voice, and transgender voice.
What are you most scared of heading into this internship? 
Sarah: There are many aspects of speech therapy that I have yet to experience first-hand (articulation, stuttering, voice therapy, adult clientele), so there will be a lot to learn in a short amount of time.  I'm a bit nervous about trying to cram so much new information into my brain while simultaneously providing thoughtful and effective therapy.  I learn best by doing, but I have a feeling the first few weeks at speech IRL are going to be a challenge!
Erin: I'm definitely more excited than scared, but I think one of the biggest challenges coming from the university clinic to an off-site setting is the increased caseload.  Going from managing just seven clients a week to a full caseload is a major adjustment, but bring it on!
Clinicians at speech IRL aim to honor our clients' journey by staying accountable to our own growth and living in a place of challenge. Please share one personal goal that you have for yourself during this internship, so that all of us (staff and clients!) can support you and celebrate your growth along the way.
Sarah: Seasoned SLPs have a knack for quickly identifying a person's speech and language characteristics on the fly.  And while my ear is pretty attuned to voice and articulation (thank you, vocal training), I still have a long way to go when it comes to characteristics of language.  I'm still struggling with the quick identification of grammatical and syntactical errors - it's hard to hold a meaningful conversation while simultaneously performing an analysis.  I've been told this just takes practice, and I'm looking forward to honing this skill at speech IRL.  
Erin: My goal is to find an effective and efficient way to stay on top of paperwork. This may be an extra challenge with the varied schedule and larger caseload, but I'm sure I can find a way to prevent it from becoming too overwhelming.
Interested in learning more about our clinician growth opportunities? Check out our Dine & Development events, designed to foster professional growth and personal connection.